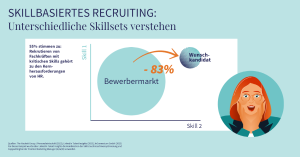 Recruiting professionals with specialized and critical skills, such as ABAP OO or Payroll, is one of the biggest challenges for 55% of HR professionals (Source: The Hackett Group/Human Resources, 2022). This is the core challenge that hrConnectum GmbH addresses with innovative solutions. In this blog article, we share insights and strategies to increase your matching quality and improve your recruiting process.
Understanding different skillsets
At hrConnectum GmbH, we believe that understanding diverse skillsets is at the heart of any successful recruiting process. Each position requires a specific combination of skills and knowledge. Correctly interpreting these combinations and accurately determining what is needed in a particular position is critical to attracting the best talent to your organization.
Expansion of your applicant market
A proactive approach to broadening your candidate market can significantly increase match quality. By defining different skillsets for your positions, you make it possible to reach a broader range of talent. For example, if you are looking for a Project Manager (m/f/d) Electrical Engineering in Construction, you might consider two profiles:
A person with ten years of experience in electrical engineering, but who has only been in construction for three years.
A person who has worked in the construction industry for ten years and has only recently changed his focus to electrical engineering.
Both profiles have valuable skills that can make them a great asset to your organization, although their skill sets are composed differently.
Relevance of skills for your recruiting
On the other hand, it is equally important to understand to what extent skills and especially wrong combinations of skills can limit your applicant market. For example, there are also skills that are mutually exclusive. Here is an example:
Wanted: A Marketing Manager (m/f/d) with SEO skills and copywriting skills. Combining these two skills reduces the number of matching professionals on LinkedIn by 83.06%. (Source: LinkedIn Talent Insights)
Practical tips: Understanding skillsets and making them more flexible
Precise your 

Must-Have-Skills and 

flexibilize 

Skills and 

Properties of 2. 

Priority.

When working with external service providers: Choose a

service provider that can handle your 

Support strategy 

can. Define 

clear goals and 

insist on 

Transparency.

In order to understand requirements and guarantee the best possible recruiting, talk to the department in detail about which skills are really necessary before you start recruiting.
Conclusion
By developing a holistic view of your candidates' skills and experience, you can improve matching quality and maximize the potential of each application. This ultimately leads to a strengthened HR strategy and a more efficient recruitment process. #KeyWords: match quality, HR teams, recruiting professionals, critical skills, recruitment process, candidate market, HR strategy